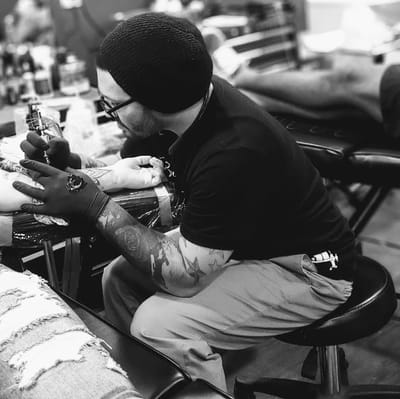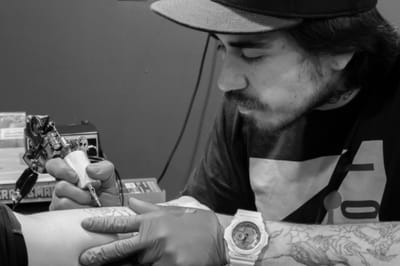 The Church Tattoo Company is a family owned shop here local to Jacksonville.The owner, Mingo, took his passion and felt he was called to take the tattooing industry and make it a place where people can share their lives and families with each other. He decided to change the stigma on what a tattoo shop can represent. We are a team that remains on mission every day to make life impacts and bring people together through art. Here we use the best equipment and strive to make your experiences memorable. We are talented, unique and full of character. The artists here love to work with creative ideas and bring them to life, but whatever you want on your body, they are willing to make happen. We accept walk ins however you may also make an appointment with any artist. Come in, check us out. You can also contact us through Facebook or the good ol' fashioned telephone!
Mingo My passion for art started at 15. Trying to make a mark on anything I could, I began with drawing and soon after I picked up a machine and really never looked back. I was always on and off with it, life happening and insecurities in myself, made tattooing seem like something that I didn't think would pan out as a career but I never fully stopped. Years later, I was given an opportunity in the industry and I felt God called me to do this so that I might be able to make an impact on this world and in this life. Outside of tattooing my time is spent with my wife and daughter TV binging, adventuring and working on other art projects.
Anthony I was born in Denver, lived in Vegas, then finally settled here 20+ years ago. Art and tattooing has been a big part of my life. Growing up with a father and Uncle's whom all had the same passion is what lit the flame.
I have an amazingly beautiful wife and two wonderful children. Cooked for over 12 years. Then was given the chance of a lifetime. Quit my job, with wifey permission of course, and was able to finally put my whole heart into tattooing. A job which I'll never consider a "job".
I like to joke around a lot but I take my tattooing very seriously. The fact that people put their trust in me to make their vision become a reality pushes me to strive for perfection with every piece. No matter how big or small.